Patient Care Technician (Diploma)
X
Fill out form to get all your answers by email
Financial Aid
Class Schedule
Career Info
Job Placement
The Admissions Process At
Florida Career College
Our admissions team is here to help you and walk you through the entire process. It is our goal to see you succeed and we are committed to making sure that happens. We provide you with the information you need to help you make informed decisions about your future. If you are ready to change your career but you are unsure of what steps to take, we are here to help guide you through the process. We know it is not easy to learn new skills and that is why we are here.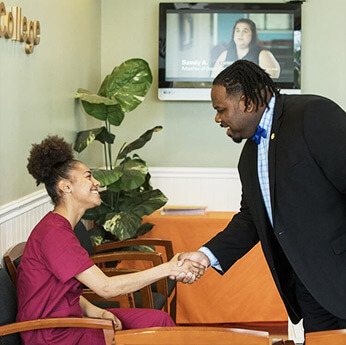 Step 1
Fill out form or call us to meet with an admissions representative. Our admissions team is available Monday through Friday and can answer any questions you may have.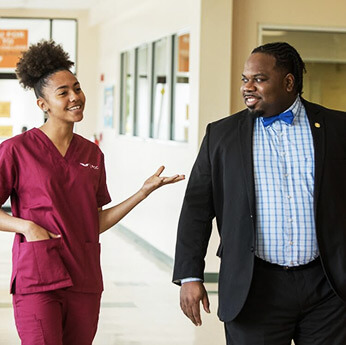 Step 2
Chat with one of our admissions representative and take a campus tour and see a class in session. You can also meet with our student finance team to discuss your financing options.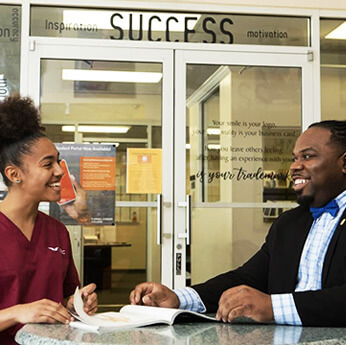 Step 3
We offer on-going enrollment, meaning you can enroll that same day and start classes on the next available start date and start building a future you can be proud of!>
Find out what your personality is like and discover your traits, worries & concerns about taking the next step to study at school towards a new and rewarding career. This quick and easy assessment will provide you with some insight into what to focus on and what you might need to watch out for to best prepare you for your new career and school goals!
What Our Students
Say About Us:
Love this school! The staff is very helpful. I'm in the medical assistant program and they work with you and make sure you understand everything. They are very accommodating and are available whenever you need help. It makes it a lot less stressful especially since I'm a single mom of two. Highly recommend this school.
I absolutely love FCC ! I was paired with the instructor best for me ! All though it's distant learning and lectures are online she's makes it feel as if you never left the classroom ! I would recommend this Medical asst class to anyone! And the advisors actually advise 😊 I went school shopping for a few months and I'm honestly so happy I went with my GUT feeling and chose this school ! I ended up with one of the best instructors there
Amazing instructors always going above and beyond to see the students accomplish their new career goals. It's rewarding to see the professional growth and know that they got hired while on extern by applying the skills and knowledge received in such a short time.
I absolutely love FCC the classrooms are on a one on one experience, they're small and thorough. My classmates are always there to motivate me to keep going and never give up and our instructor Dr.Veloria explains everything thoroughly and is there for us every step of the way.
I am in my externship for Dental assistant, I absolutely want to thank not only my teacher, Ms. Velez but all the staff that helped me achieve my goals with getting my high school diploma (Thank you Ms. Collete ❤️) and also helping me get through this tough challenge to getting closer to my goals in dentistry! Great job FCC Tampa
Your New Career Starts At Florida Career College
Frequently
Asked Questions
Why Florida Career College?
We support our students from the moment they submit their application to long after they graduate. We foster a safe environment where curiosity and compassion are encouraged by our experienced and dedicated staff.
What kind of school is Florida Career College?
Florida Career College (FCC) specializes in offering short-term vocational and technical career training for students who seek entry-level positions in the fields of healthcare, business, and skilled trades. Florida Career College is a private career college with 11 campuses in Florida and Texas.
Is Florida Career College a real college?
Yes, Florida Career College is a licensed and accredited vocational school many call a career college. Unlike many traditional two- and four-year schools, career colleges focus on offering students the knowledge, skills and hands-on training specifically designed for students who wish to enter a specific field or trade. Career college curricula can often be completed in weeks or months (typically not years) and often include real-world training and career placement services.
Financial Aid
Financials should never be a roadblock in your education, but we understand that they can be. Unfortunately, "How am I going to pay for this?" is often one of the first questions our students ask before applying. Here at Florida Career College, we want to help you find the right answer.
Applying For Financial Aid

To apply for financial aid, all you have to do is meet the eligibility requirements and be a current student at FCC! The next step for you will be submitting these forms:

Free Application for Federal Student Aid (FAFSA)

A list of schools (beyond high school) previously attended

Completed loan applications or an FSA ID

Personal references with a valid address and phone number

Once the above is submitted, the Financial Aid Office will notify you if further documentation is needed.

General Eligibility Requirements

If you're interested in receiving federal student aid, you must:

Be enrolled in an academic program leading to a degree or diploma

Have certification of a high school diploma or equivalent

Not be in default on a student loan or owe a refund on a federal grant received at another institution

Maintain satisfactory academic progress, as outlined in the school's catalog

Be a United States citizen or eligible non-citizen

Eligibility is determined through a formula filled in with the information you provide on your FAFSA. The amount of federal financial aid offered will vary based on your financial need.

Federal Loan Repayment Options

You have options with federal loan repayment plans and you can change your repayment plan at any time. If you need help or have more questions, you will need to contact your federal loan servicer to determine which repayment option best fits you. Depending on which plan you chose, your payments and length of payment period will vary. Here are the different repayment plan options available to you:

Standard Repayment Plan

Graduated Repayment Plan

Extended Repayment Plan

Revised Pay As You Earn Repayment Plan (REPAYE)

Pay As You Earn Repayment Plan (PAYE)

Income-Based Repayment (IBR)

Income Contingent Repayment (ICR) (Direct Loan Only)

Income-Sensitive Repayment (FFEL Only)

Financial Aid Programs

Please visit the Federal Student Aid Resource page published by the U.S. Department of Education, upon enrollment. On this page you'll learn more about the different financial aid programs available to you. We are designated as an eligible institution by the U.S. Department of Education which means we are eligible to participate in the following programs :

Federal Pell Grant

Federal Supplemental Education Opportunity Grant (SEOG)

William D. Ford Federal Direct Subsidized and Unsubsidized Student Loans

William D. Ford Federal Direct Parent PLUS Loans

Federal Work-Study Program (FWS)

Whichever path is right for you, FCC will be there to help simplify the process and get you on the track to success.
Campus Locations
Miami (Main Campus)
1321 SW. 107th Ave.
Miami, FL 33174
Boynton Beach (Branch)
1743 North Congress Ave.
Boynton Beach, FL 33426
Jacksonville (Branch)
6600 Youngerman Circle
Jacksonville, FL 32244
Orlando (Branch)
989 N. Semoran Blvd.
Orlando, FL 32807
Houston North (Branch)
70 FM 1960 W.
Houston, TX 77090
Lauderdale Lakes (Branch)
3383 N. State Road 7
Lauderdale Lakes, FL 33319
Pembroke Pines (Branch)
7891 Pines Blvd.
Pembroke Pines, FL 33024
Houston Southwest (Branch)
9945 Bissonnet St.
Houston, TX 77036
Margate (Branch)
3271 N. State Road 7
Margate, FL 33063
Tampa (Branch)
9950 Princess Palm Ave., Suite 100
Tampa, FL 33619
Hialeah (Branch)
3750 W. 18th Ave.
Hialeah, FL 33012
West Palm Beach (Branch)
6058 Okeechobee Blvd. West Palm Beach, FL 33417